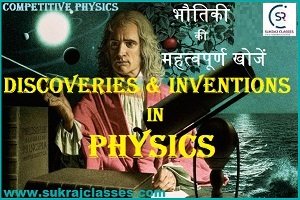 Important Discoveries and Inventions in Physics
Physics topic- "Important Discoveries and Inventions in Physics-भौतिकी की महत्वपूर्ण खोजें", is important for all competitive exams like CET- Common eligibility Test, SSC CGL, SSC CHSL, RRB NTPC, UPSC and for other state civil services exams. In these exams, almost 4-5 questions are coming from Physics. Let's Start the topic:
Famous Discoveries in Physics
(भौतिकी की महत्वपूर्ण खोजें)
There is a list of significant and famous discoveries in physics. A scientist explores the nature of the universe. Our curiosity for knowledge, is the drive behind all the discoveries. There are numerous scientific discoveries that influenced the way we think and live. Today we have electricity, telephone, television, internet, computers, machines for everything, robots etc. all of these things have made the life of a man very comfortable.
Discoveries not only improve our living standards but also help in the advancement of mankind like production of crop, medical applications etc.
Important Discoveries and Inventions in Physics
Discovery
Year of Discovery    
Name of Scientist

Photo of     Scientist

Law of refraction

(Snell's law)

1621

Willebrord Snell

Willebrord Snell

Concept of Pressure

(Pascal's law)

between 1646 and 1648

Blaise Pascal

Laws of Motion

1687

Sir Isaac Newton

Formulation of Coulomb's law,

Law of Electrostatic Attraction

1779

Charles-Augustin de Coulomb

Atom

1808

John Dalton

Law of Electric Resistance

Or

Ohm's Law

1827

Georg Simon Ohm

Archimedes' principle,

Law of Buoyancy

1827

Archimedes

Electromagnetic Induction

1831

Michael Faraday

Photography on paper

1835

William Henry Fox Talbot

Dynamite

1867

Alfred Nobel

Periodic Table

1869

Dimitri Ivanovich Mendeleev

X Rays

1895

Wilhelm Roentgen

Radioactivity

1896

Antoine Henri Becquerel

Electron

1897

J.J. Thomson

Radium

1898

Marie Sklodowska Curie

Quantum Theory

1900

Max Plank

Wireless Telegraphy

1901

G. Marconi

Diode Bulb

1904

Sir J.S Fleming

Photon

1905

Albert Einstein

Principle of Relativity,

Explained Brownian motion,

Photoelectric Effect

1905

Albert Einstein

Atomic Structure

1913

Neil Bohr & Rutherford

    Neil Bohr

Proton

1919

Rutherford

Raman Effect

1928

C.V Raman

Mach Number

1929

Ernst Mach

Neutron

1932

James Chadwick

Nuclear Reactor

1942

Enrico Fermi
For More:
If you like and think that General Science (Physics) topic on "Important Discoveries and Inventions in Physics- भौतिकी की महत्वपूर्ण खोजें" was helpful for you, Please comment us. Your comments/suggestions would be greatly appreciated. Thank you to be here. Regards – Team SukRaj Classes.